Article and photos by Ruth Tokumi
On January 26, 2017, Hawaii Betsuin Choir members shared an enjoyable musical evening with Rev. Satoshi Tomioka following choir practice.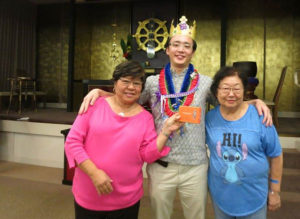 Tomioka Sensei played his ukulele and led choir members in singing "Shojoji" and "Yuyake Koyake" and one of his favorite gathas, "A Special Place." Following the presentation of gifts and leis, choir members sang "Because You Are There" to Tomioka Sensei because the song lyrics describe him so well. Then everyone sang old favorites, "Akatonbo" and "Furusato."
Choir Director, Mari Murakami, played an original composition for Tomioka Sensei which she re-titled "Aloha from Heart to Heart" for his party. Francis Okano, choir piano accompanist, led the aloha toast to Tomioka Sensei, expressing everyone's best wishes for him as he begins his new assignment at Puna Hongwanji.
The evening ended on a fun note with a spirited game of Shinran Shonin Karuta with Tomioka Sensei as the caller.
Warmest mahalo and aloha to you, Sensei, you will always be part of our Hawaii Betsuin Choir ohana.