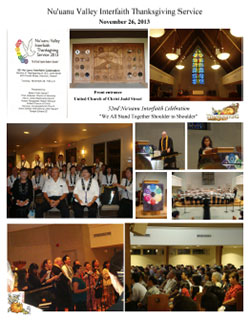 This year's Nu'uanu Valley Interfaith Thanksgiving Service was held Tuesday, November 26 at United Church of Christ on Judd Street.
Hawaii Betsuin was among the participating churches and temples, which also included Baha'i Faith Hawaii, First Unitarian Church of Honolulu, Harris United Methodist Church, United Church of Christ, Nu'uanu Congregational Church, Soka Gakkai International – USA/Hawaii, and Temple Emanu-El. Betsuin minister Arthur Kaufmann served on the organizing committee and the Betsuin choir performed.
The theme of the service was "We all stand together, shoulder to shoulder." Funds raised went to Kids Hurt Too Hawaii, an organization that provides grieving children a safe space to express feelings about their loss of a parent to divorce, adoption, incarceration, or death.
Click the image for a photo collage by Ruth Tokumi. You can also see additional photos on the event Facebook page.