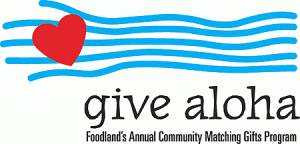 During the month of September, temple members and friends have an opportunity to give to the Hawaii Betsuin by making donations at Foodland or Sack'N Save with your Maika'i' Card.
At checkout, present your Maika`i Card and inform the cashier that you would like to make a donation to the Honpa Hongwanji Hawaii Betsuin. If you do not have a Maika'i Card, you may request one. Our five digit registration code is 7 8 5 0 0.
All donations designated for the Hawaii Betsuin plus a percentage of the $300,000 will be credited to our temple. The more donations we collect result in a higher percentage of the fund awarded to us.
Your donation will be used to replenish our General Development Fund which is used for our major capital improvement projects. The next major project anticipated is renovation of the main-floor lounge area and expansion of the main-floor bathroom in the PBA space that is reverting to Betsuin.