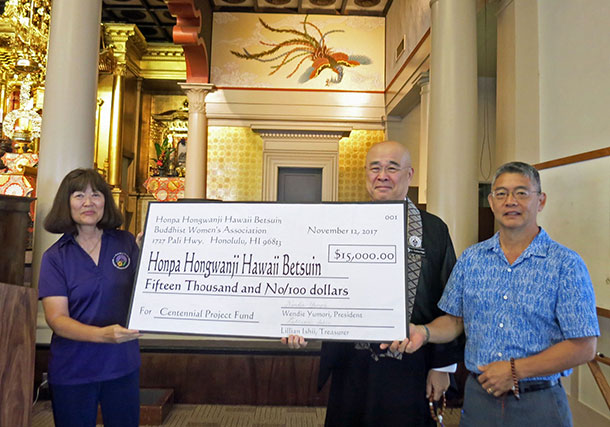 Photo by Ruth Tokumi
Honpa Hongwanji Hawaii Betsuin recently kicked off a centennial year of celebrating the 100th anniversary of its widely-recognized temple structure. Hawaii Betsuin also recently started an ambitious centennial fundraising campaign for high priority temple renovations and improvements.
Since Hawaii Betsuin's Buddhist Women's Association was also established over 100 years ago, current Hawaii Betsuin BWA members feel a deep connection and appreciation for those whose vision and commitment so long ago resulted in the distinctive, beautiful temple that overlooks the Pali Highway today.
In gratitude to those dedicated men and women of generations past and with heartfelt hopes for future generations, the Hawaii Betsuin BWA made a donation of $15,000 to Hawaii Betsuin's Centennial Project Fund on November 12, 2017. The gift was ceremonially presented in the form of an oversized check by Hawaii Betsuin BWA President, Wendie Yumori, to Hawaii Betsuin Rimban, Toyokazu Hagio, and Hawaii Betsuin Temple President, Jerry Tamamoto.
– Wendie Yumori