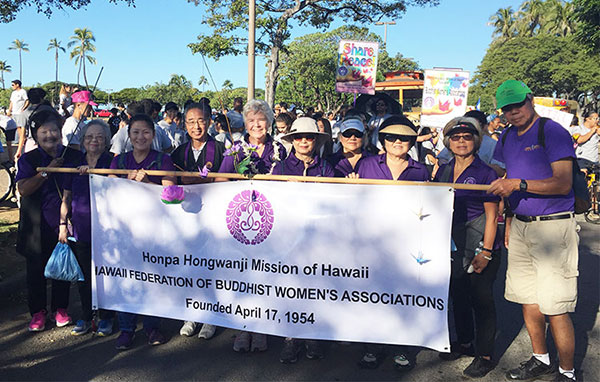 Members of the Hawaii Federation of Buddhist Women's Associations were joined by Bishop Eric Matsumoto; students, faculty, and staff of Pacific Buddhist Academy; members of the Junior Young Buddhists Association (Jr. YBA); and members of Hawaii Betsuin and other temples in the 2018 Martin Luther King Jr. Parade through Waikiki.
Many parade participants in the Honpa Hongwanji group presented origami cranes to children and other festival-goers along the way, producing smiles of delight. Others carried signs and banners with messages connected to peace, Buddhism, and/or quotations from Martin Luther King Jr.
A Pacific Buddhist Academy bus accompanied the group, allowing greater participation — those who preferred riding to walking were able to ride the bus and display peace cranes out the open windows.
Thanks to all who joined in person and in spirit! This is a tradition that is sure to continue. Please join us again in 2019!
Additional photos – click for larger size:
A version of this story first appeared on the website of the Honpa Hongwanji Mission of Hawaii.