FOR IMMEDIATE RELEASE
Media Contact: 
Dexter Mar
kekela23@gmail.com | 808-348-4399
Honpa Hongwanji Hawaii Betsuin | 1727 Pali Highway, Honolulu, HI 96813
Multi-faith Peace Walk for 72 years of atomic bombing restraint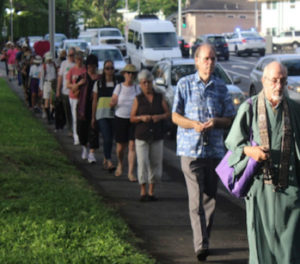 On Wednesday, August 9, 2017, the Three-Petals Peace Partnership of the Quaker Friends, Newman Center (Catholic) and Buddhist Study Center will join with Hongwanji Buddhist Temple to hold the 8th annual candlelight peace walk remembering the 72nd anniversary of the atomic bombing of Nagasaki and expressing gratitude for 72 years of nuclear bombing-free life on Earth.
The Peace Walk also honors the courage and determination of three Buddhist monks, who 12 years ago, they made a 1600-mile pilgrimage to Trinity, New Mexico returning the atomic flame, which has burned continuously at a memorial site between Hiroshima and Nagasaki.  Trinity is the birthplace of the atomic bombs that destroyed Hiroshima and Nagasaki in 1945.  The hope in returning the atomic flame to its birthplace was an effort to close the cycle of nuclear destruction and usher in a new cycle on nuclear disarmament.
August 9th is important because the Nagasaki Atomic Bombing marks the beginning of a period of nuclear restraint that we all hope will continue. We show our gratitude for 72 years of "thermonuclear peace" by walking from the Pali Highway Hongwanji Temple to the Nagasaki Peace Bell at Honolulu Hale Park.
Please join us in expression our gratitude for the past year of peace and our wish for another nuclear aggression-free year.
About the walk: The walk will start at 5pm with a lantern lighting service in the Hongwanji Temple at 1727 Pali Highway and end with bell ringing at 7pm at the Nagasaki Peace Bell Memorial at the Honolulu Civic Center (on South Beretania Street, across from the Board of Water Supply). Chartered bus service will be available for those who are unable to walk that far. Suggested apparel is "something Peaceful" and comfortable shoes.
The movie, "GATE: The Atomic Flame," will precede the walk at 3pm in the Hongwanji Main Temple.
WHEN: Wednesday, August 9, 2017, 3pm Movie, 5pm Peace Walk, 7pm Peace Bell
WHERE: Hongwanji Buddhist Temple – 1727 Pali Highway, Honolulu, HI 96813
CONTACT: Temple Office 536-7044 or Buddhist Study Center 973-6555