Hawaii Betsuin officially commenced celebrations of our main temple building's centennial with a service on September 10, 2017. In attendance was His Eminence Gomonshu Gojun Ohtani, the spiritual head of the Jodo Shinshu denomination of Buddhism.
One of many highlights at the service was the unveiling of beautiful new paintings in the altar area. On the congregation's right, ministers revealed a painting of the Hō-ō bird, also known as the Firebird or Phoenix. On the left was revealed the Gumyocho, or two-headed bird.
Rimban Toyokazu Hagio explained the multilayered meaning represented by the two birds. The Phoenix represents the root of life and everything in the world and symbolizes immeasurable life and the work of great compassion. Gumyocho, the two-headed bird, represents Light and Life. It lives in the Pure Land and expresses coexistence, co-prosperity, and peace. The Gumyocho bird symbolizes inconceivable light and the Buddha's wisdom.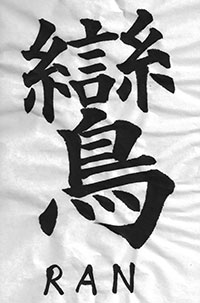 Rimban Hagio explained that the paintings of the birds and our understanding of their meaning help us be aware of the Buddha's benevolence and to listen to the compassionate calling of Amida Tathagata, recite the Nembutsu, and express our gratitude.
Rimban also held up the character Ran, painted by Mrs. Kamuro. He noted the coincidence that this character, the second one in the name Shinran (親鸞), is also a character used to represent the Phoenix.
Centennial celebrations will continue through 2018.
See also: