The family of Rev. Dr. Alfred Bloom has announced that Dr. Bloom passed away on the evening of August 25, 2017, "surrounded by family and several close Dharma friends." Dr. Bloom was a beloved scholar and teacher whose career and writings profoundly advanced Jodo Shinshu studies. We are saddened and at the same time deeply mindful of and grateful for his contributions to Hawaii Betsuin, Hongwanji in Hawaii, and Jodo Shinshu as a whole.
We will be posting more about Dr. Bloom and details about a Saturday, September 2 memorial service, but for now, please see the two images below provided by the family as well as Former UH professor shared compassion of Shin Buddhism in the Star-Advertiser.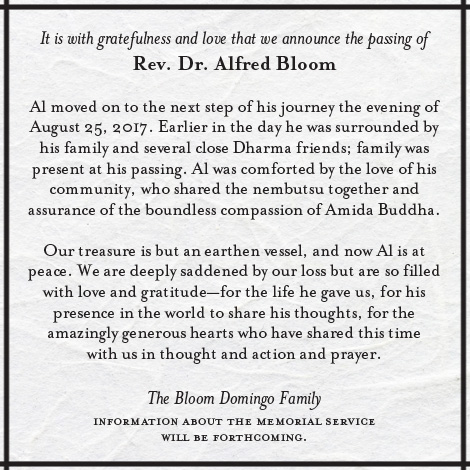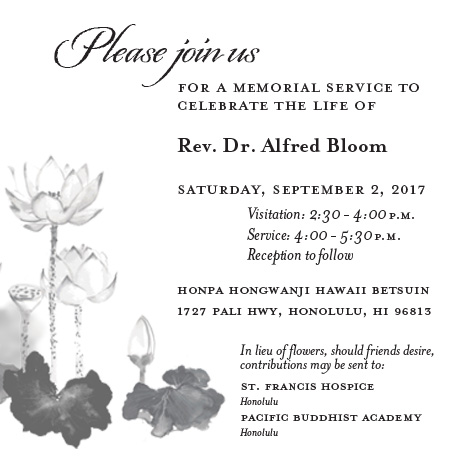 ---
For those who may have difficulty reading the text contained in the images, we provide text versions here.
Announcement
It is with gratefulness and love that we announce the passing of Rev. Dr. Alfred Bloom.
Al moved on to the next step of his journey the evening of August 25, 2017. Earlier in the day he was surrounded by his family and several close Dharma friends; family was present at his passing. Al was comforted by the love of his community, who shared the nembutsu together and assurance of the boundless compassion of Amida Buddha.
Our treasure is but an earthen vessel, and now Al is at peace. We are deeply saddened by our loss but are so filled with love and gratitude — for the life he gave us, for his presence in the world to share his thoughts, for the amazingly generous hearts who have shared this time with us in thought and action and prayer.
The Bloom Domingo Family

Information about the memorial service will be forthcoming.
Service Information
Please join us for a memorial service to celebrate the life of Rev. Dr. Alfred Bloom.
SATURDAY, SEPTEMBER 2, 2017
Visitation: 2:30 – 4:00 P.M.
Service: 4:00 – 5:30 P.M.
Reception to follow
HONPA HONGWANJI HAWAII BETSUIN
1727 PALl HWY, HONOLULU, HI 96813
In lieu flowers, should friends desire, contributions may be sent to:
ST. FRANCIS HOSPICE, Honolulu
PACIFIC BUDDHIST ACADEMY, Honolulu